VORES BESTRÆBELSE PÅ BÆREDYGTIGHED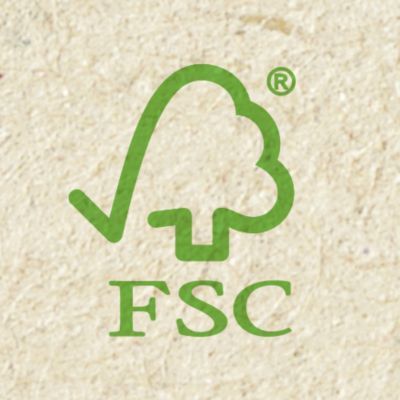 Forest Stewardship Council®
DYMO®'s papirprodukter er FSC Mix, hvilket betyder, at disse produkter er fremstillet af materiale fra veladministrerede, FSC®-certificerede skove og andre kontrollerede kilder.
The Forest Stewardship Council® (FSC®) er en global velgørenhedsorganisation, der arbejder på at fremme ansvarlig skovdrift på verdensplan.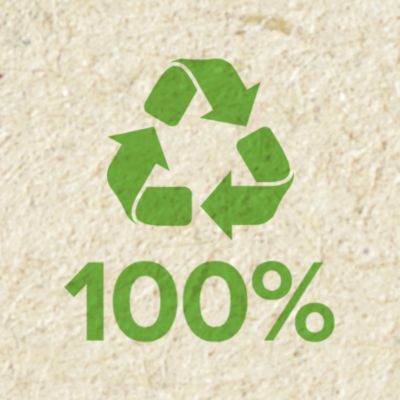 100% industriaffald
DYMO® udvendige plastikkassetter er fremstillet af 100% genbrugsmateriale.
Vores materialer kommer fra skrotmaterialer, der er produceret af fabrikanter og bestemt til bortskaffelse. Disse rester behandles og genbruges, hvorefter de bruges til at skabe vores labelkassetter.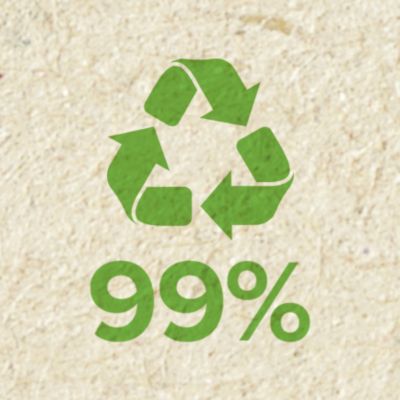 99% forbrugsaffald
DYMO®'s karton og emballage er fremstillet af 80% genbrugsmateriale, mens DYMO®'s blisteremballage er fremstillet af 60% genbrugsmateriale6.
Vores materialer er blevet sorteret og opsamlet fra forbrugsaffald, som var bestemt til bortskaffelse og nu genbruges til at skabe vores emballage.
---
HVAD VI GØR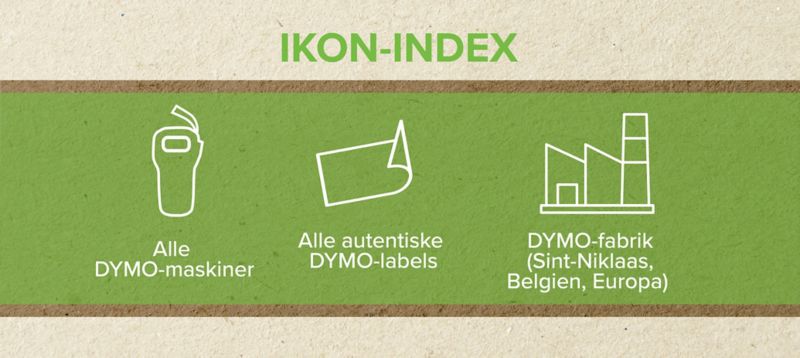 Energiforbrug
Vi reducerede energiforbruget på vores fabrik¹ med 27%3 gennem modernisering og effektivisering af maskiner og produktionsprocesser. Vi har også opgraderet til langtidsholdbar LED-belysning, hvilket reducerer CO2-aftrykket for alle de labels, vi fremstiller.
Bæredygtige materialer
Over 40% af DYMO®'s produkter produceres1 ved hjælp af vandbaserede klæbemidler2, som bruger betydeligt færre kemiske ingredienser. Dette giver DYMO®'s produkter en mere behagelig lugt og gør dem mere sikre for forbrugerne og miljøet.
Vandbesparelse
I løbet af de sidste 10 år3 har vi reduceret brugen af ferskvand under produktionen2 med 73%. Vi har desuden forpligtet os til, at over 70% af det vand, der bruges på vores fabrik1, kommer fra opsamlet regnvand.
Genopladelige batterier
Vi var en af de første anerkendte producenter af elektroniske labelmaskiner på verdensplan. Vi viser vejen med ét batteri, der er langvarigt og genopladeligt,1 i de fleste af vores DYMO®-labelprintere. Det betyder, at forbrugeren ikke behøver bruge engangsbatterier og sparer 10% på deres energiforbrug5.
BPA-frit LabelWriter-papirlabels
BPA er en kunstig belægning på papiret, som har en negativ indflydelse på dets opløselighed, brugernes sundhed og miljøet. Derfor er alle DYMO® LabelWriter™-papirlabels uden BPA.
Ingen blæk eller toner
Sammenlignet med udskrivning af labelark med en almindelig printer bruger alle DYMO®'s labelprintere4 innovativ termisk udskrivningsteknologi, der eliminerer brugen og bortskaffelsen af blæk eller tonerpatroner.
1Sint-Niklaas Plant, Belgien, Europa (LabelWriterTM-labels til det amerikanske marked er fremstillet i Mexicali, Mexico) | 2D1®-standardlabels, D1® holdbare labels, alle LetratagTM-labels, prægende plastiklabels, Rhino-labels, XTL-labels, LabelWriter® holdbare labels | 3Forskning udført af A Greener RefillTM LLC. | 4DYMO® LabelWriterTM, LetraTagTM, LabelManagerTM, EmbossingTM produktsortiment | 5I overensstemmelse med de strengeste energikrav (DOE), bruger DYMO®'s batterier minimalt til ingen energi, mens produktet er på standby | 6LetraTagog kun prægning
---
Se alle DYMO-produkter
---
---
---
---
---


MICROSOFT WINDOWS, WINDOWS 7, THE WINDOWS LOGO, OUTLOOK AND EXCEL ARE TRADEMARKS OR REGISTERED TRADEMARKS OF MICROSOFT CORPORATION. IPHONE, IPAD, MAC, APPLE, AND MAC OS ARE TRADEMARKS OF APPLE INC. REGISTERED IN THE US AND OTHER COUNTRIES. GOOGLE IS A REGISTERED TRADEMARK AND ANDROID IS A TRADEMARK OF GOOGLE INC. IOS IS A TRADEMARK OR REGISTERED TRADEMARK OF CISCO. ALL OTHER TRADEMARKS ARE THE PROPERTY OF THEIR RESPECTIVE OWNERS.