Facilities & MRO
Quickly label shelves, bins, tools
and more with labels that last.
Rely on durable DYMO labels to help you find parts and tools faster, track inventory and assets more effectively, and keep coworkers productive and safe. DYMO labels stick, and last, even in the busiest environments. Toolbox-tough DYMO XTL™ and DYMO Rhino™ industrial label makers can help you quickly and easily make professional-looking labels for your facility.
Organize your tool crib, parts shop, stock room or shop floor
Label it right, and label it fast, with DYMO industrial-strength labels for your inventory, equipment, shelving and more. DYMO XTL
™
and Rhino
™
label makers make it easy to create professional-looking, industrial-strength labels for your facility by automatically sizing, spacing and aligning text. Now, DYMO XTL
™
label makers take it a step further, featuring an on-screen color preview so you can review labels before you print.
LEARN MORE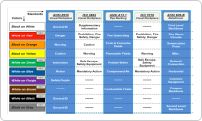 Make time and S.P.A.C.E for color coding - it's important
Color coding is becoming increasingly important in industrial, commercial and telecom environments.
LEARN MORE