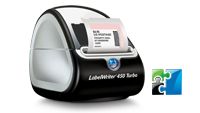 LabelWriter® & LabelManager® SDKs
The LabelWriter/LabelManager SDK for Windows® or Mac® provides everything you need to create and print a label on a DYMO LabelWriter® or LabelManager® label printer from within your Windows or Mac application, including:
Fully integrated printer control so you don't have to worry about paper type selection, printer resolutions, margins, custom page sizes, and all the other complexities of printing.
Advanced text handling, including rotation, curved text and shrink-to-fit.
Intelligent mail barcodes for faster delivery of mail.
Built-in support for photo ID applications.
Built-in support for reading, re-sizing, and printing most common graphics formats.
Built-in support for UPC, EAN, EAN 128, ITF-14, Code-128, Code 39, Interleaved 2 of 5, IMB, POSTNET, PLANET and other barcode symbologies.
Printing support for the full range of DYMO printers, including the LabelWriter 450 series, the 4XL, the LabelWriter Wireless, the LabelManager 500TS, 420P, 280, PnP and the MobileLabeler label maker.
Developers have used these DYMO SDKs to:
Print shipping labels from order entry systems.
Print barcode labels from inventory control applications.
Print patient file folder labels from medical office and patient management software.
Print badges from visitor and seminar management programs.
The SDK for Windows includes:
An AppleScript interface to the DYMO Label Software application, and many sample scripts that illustrate typical label printing tasks.
A native Safari browser plug-in which enables browser-based applications
Sample showing use of the Automator tool for creating custom workflows
Programmer's manual
Comprehensive FAQ
Email support via the DYMO SDK Support and Development Team
The SDK for Mac includes:
An AppleScript interface to the DYMO Label Software application, and many sample scripts that illustrate typical label printing tasks.
A native Safari browser plug-in which enables browser-based applications
Sample showing use of the Automator tool for creating custom workflows
Programmer's manual
Comprehensive FAQ
Email support via the DYMO SDK Support and Development Team